In April of 2014, we were approached by a memory care facility in Littleton, CO about the possibility of bringing the pigs in as therapy pets for the residents. Many of these residents are in different stages of Alzheimer's or dimensia, and of course we leaped at the opportunity to bring happiness to the facility! Starting in May, Pippy and Boris started visiting the facility on weekends. It has been an incredibly rewarding experience; the reception of visiting potbelly pigs has been incredibly positive, and Pippy and Boris thoroughly enjoy their weekly visits.Our pigs are very well behaved; they are both potty trained, and are incredibly social with strangers. This makes them a great fit for visits to the facility!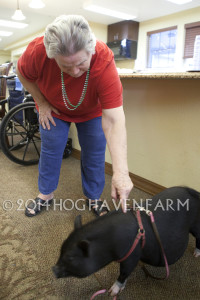 During these one hour visits, Pippy and Boris get lots of attention, snacks, and extra belly rubs. It's a wonderful feeling seeing the faces of the residents light up when the pigs come to visit! Pippy even dresses up on occasion, guaranteeing an extra smile (and sometime a treat!) from the residents. We are in process of setting up the pigs as therapy pets in other facilities, and welcome the idea of bringing them to schools and other organizations in the future. Education is key, and at Hog Haven Farm, we are dedicated to inspiring others to not only help these wonderful animals, but to teach others about how well suited potbelly pigs are as a family pet.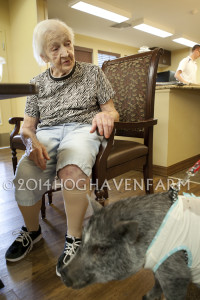 Currently, Pippy and Boris are not officially certified as therapy animals. With our community service hours growing, and consistently good bills of health from the vet, we are looking to have them certified by the end of 2014. If you or your organization would like Hog Haven Farm to pay a visit, please contact us at info@hoghavenfarm.org today!