Any pig owner will tell you that potbellies love snack time! Like any pet, snacks are great for rewarding positive behavior, training, and for the pigs, to supplement a diet of pig pellets. There are many snacks available–after all, pigs love to eat and will take just about anything offered–but not all choices are good for your piggy. We've compiled a list of recommended healthy snacks, and snacks that are good in limited quantities, for your pig. You will find that your pig might not like certain foods; like humans, pigs will develop a taste preference for certain fruits and vegetables. For example, two of our pigs will not eat bell peppers, but the other will!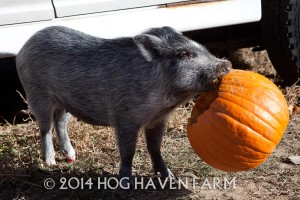 Vegetables: always a healthy choice, your piggy will not say no to a tasty green snack. You can use vegetables as a dietary supplement, or to reward positive behavior and training. Hog Haven Farm recommends, in no particular order:
Pumpkin: canned (not pie filling, but natural) or fresh
Leafy greens: arugula, romaine, red leaf lettuce, green leaf lettuce, butter lettuce, collard greens, and kale
Other greens: celery, bell peppers, snow peas, edamame (soy beans), cabbage, broccoli, cucumbers, green beans, leeks, bok choy, brussels sprouts, asparagus
Squash: there's a whole variety of squash, and any or all varieties are acceptable, including yellow squash, zucchini, winter squash, acorn squash, spaghetti squash, butternut squash, etc
Root vegetables: turnips (including the leaves), radishes (including the leaves), carrots, beets
Other vegetables: cauliflower, parsnips, eggplant, mushrooms, sweet potatoes (sparingly–starch), spinach (sparingly–sodium), fennel, dandelion flowers and leaves, arrowroot, black-eyed peas
Fruits: feed your piggies any fruit sparingly. The sugar content is high and in large quantities a bad thing! Safe fruits include:
Apples (remove seeds)
Bananas (peels ok)
Blueberries
Blackberries
Cantaloupe
Grapes
Mango
Peaches (remove pits)
Pears (remove pits)
Pomegranate
Strawberries
Watermelon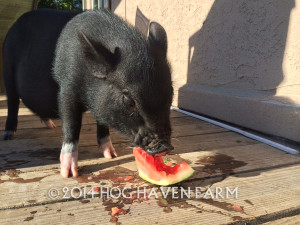 Other acceptable snacks:
Oats/Oatmeal
Quinoa
Unsalted nuts, including almonds, peanuts, walnuts, and cashews
Unsalted seeds: pumpkin, chia, hemp, sunflower, sesame, grape, pomegranate
Brown rice
Sugarfree apple sauce
Yogurt
Airpopped popcorn (no salt or oil added)
Coconut milk, oil or shavings
Be aware that, like other animals, there are foods and plants out there that are toxic to pigs. Foods to avoid at all costs:
Salt–this is top of the list. Avoid salty foods at ALL costs!
Acorns
Chocolate (in very limited quantities, your pig will be fine)
Tomato leaves and vines
Moldy potato skins, potato leaves, and green potatoes
Virtually all seeds and pits from fruit, including apples, peaches, pears, plums, apricots, cherries, nectarines, etc
Flaxseed and flaxseed oils
Raw cashews
Raw kidney beans or lima beans
Corn stalks
If you have questions at any time about appropriate foods for your pig, there are online resources through Mayo Clinic for animals. You can always consult your veterinarian for serious inquiries, and what to do in case your pig consumes something from the above list.