Halloween is almost here! This is the best time of year for potbellied pig owners, as your friends, family, and neighbors throw out their jack-o-lanterns and start prepping for Thanksgiving and Christmas holidays.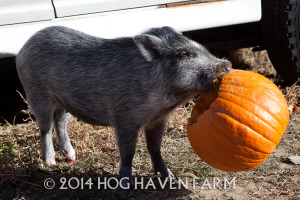 Pumpkin has huge health benefits for pigs; not only is it a good source of Vitamin C to boost immune systems, it's rich in fiber as well; this is important to help our infinitely-hungry friends feel full longer! Pumpkin, when cooked and mashed, is also a good source of Vitamin A, a key ingredient for aiding vision in both humans and our porcine pals. Pumpkin is also a good option to aid digestion in pigs–when your pig has an upset tummy or is showing signs of constipation, feeding them cooked pumpkin works wonders!
So ask around this weekend for unwanted jack-o-lanterns; your piggy pals will thank you!