2018 has been a busy year already!
We kicked off January with a trip to Wichita, Kansas, to pick up a stray Spotted breed set to be euthanized. Henry, a young, gentle, 260lb pig was a stray taken to a shelter. Given his breed and size, he was not an adoption candidate, and faced a terrible fate. We welcomed him to our pig family, and drove the 16 hours round trip to bring him to his new life!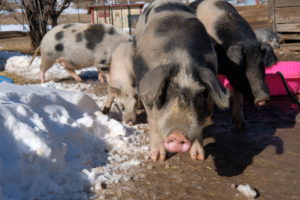 The end of January brought us five adorable 4-5mo old piglets. These sweet babies were never socialized, never named–and were going to be sold at auction. Part of a collaborative rescue effort with Broken Shovels Farm Sanctuary and Rescued Friends Animal Sanctuary, a total of 17 pigs were in need, and every single one needed to be spayed or neutered. We welcomed home Fiona, Ferdinand, Duke, Pigger Allan Poe, and Kramer, and they were all taken in for neuter/spay surgery on 2/8!