On April 18, 2019, executive director Erin Brinkley-Burgardt presented to Colorado legislators the plight of pet pigs. Learn more about Hog Haven Farm began, why there is an overwhelming need for rescue, and how you can help.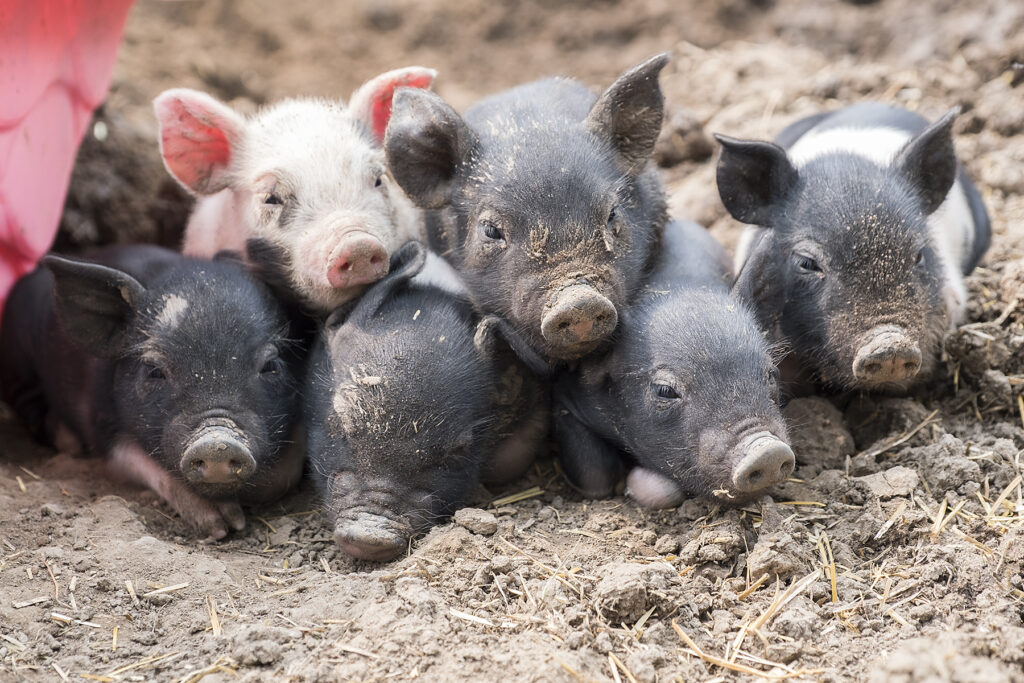 Founded in August 2014, Hog Haven Farm was conceived from my childhood love of pigs, and from an incredible bond I formed with my first pet pig, Pipsqueak. After bringing Pippy home in 2013, and becoming active in Facebook communities for pet pigs, my husband Andrew and I became aware of the national plight of pet pigs, and decided to take action. Thinking our rescue goals would take 5 years to take off, we were blown away when Hog Haven Farm grew within 6 months. In the last 3 years, we have moved twice to accommodate the growing demand of rescue, and are now located on 40 beautiful acres east of Denver. We rescue pigs from situations of abandonment, abuse, neglect, and from slaughter.
Hog Haven Farm is currently home to 98 pigs, 7 equine, 1 dog and 4 cats. Of these 98, 80 are potbellied and 18 are standard or mixed breeds. In the 4.5 years we've operated, we have rescued nearly 190 pigs, with our intake doubling in 2017 when we were able to expand. Since founding, we have been able to adopt more than 80 potbellies to forever homes, and network other pigs in need to find sanctuary or permanent homes.
Sadly, only 2-5% of all pet pigs remain in one home during the course of their long lives, a 20-year average. One primary factor contributing to abandoned pigs relates to breeding practices. Because pig breeding is not regulated by the USDA or PACFA, false claims can be made to sell more piglets without consequence. Additionally, there are an estimated 500,000 pet pigs in the United States, so you can imagine why the retention rate of pet pigs is so alarming.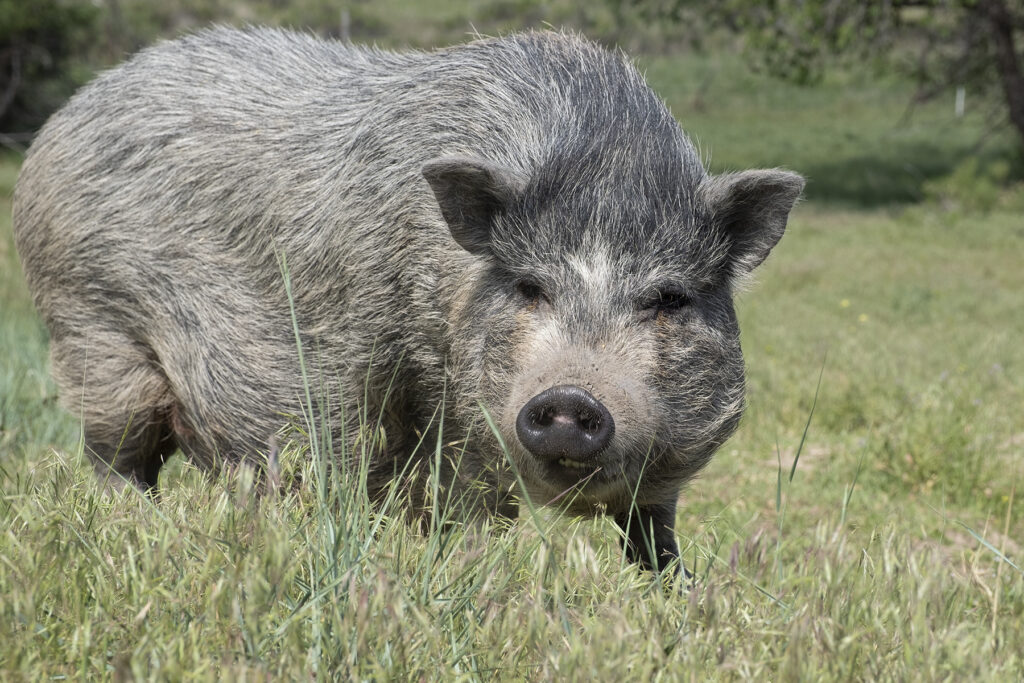 The terms "teacup, "micro-mini," and others were coined by breeders to sell more piglets. No matter the breed, all piglets are typically less than a pound at birth, and the overwhelming cuteness of these babies draws a lot of attention. The myths about these tiny pigs include many alarming details; breeders will claim that teacup pigs reach a mere 25-40lbs at maturity. Additionally, many breeders suggest highly restrictive diets to keep these pigs small, or essentially advising their clients to starve the pig. Many breeders also welcome clients to meet the breeding parents, suggesting that the piglet will only grow as large as mom or dad.
The truth behind these myths is widely available to anyone performing a simple Google search. "Teacup" and other such breeds are merely potbellied pigs, who grow anywhere from 70 to 250lbs. The term "mini pig" is also misleading, as it refers to any breed of pig 300lbs or less. Compared to standard breeds, 300lbs is quite small! Females come of breeding age at 4 months old, and often, the breeding parents at breeders are just babies themselves. Because pigs don't complete their growth for 4-5 years, meeting breeding pairs who are younger than that do not give an accurate size reference. Additionally, not all pigs will be the same size as their parents; just like human children, there is no guarantee that they will fit in a certain growth percentage!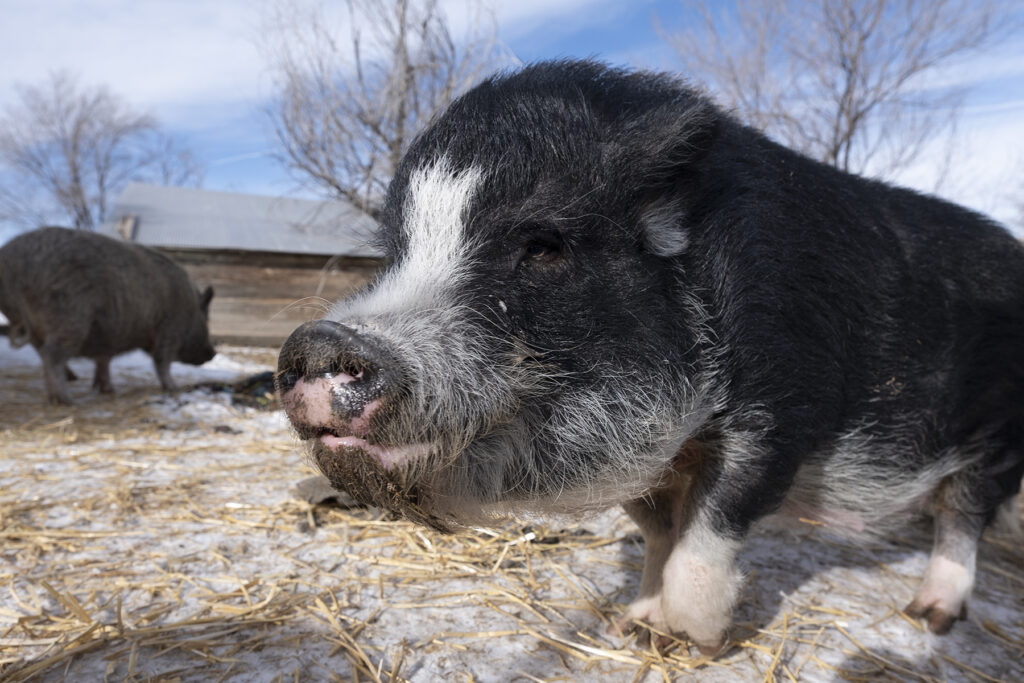 Another contributing factor to unwanted pet pigs is zoning regulations and restrictions. In Colorado, some of the current cities with bans on pet pigs are Aurora, Loveland and Castle Rock. When people are caught illegally keeping a pig, the animal is either seized or the owner is given up to 30 days to remove it. Hog Haven Farm has received many calls from Aurora and Castle Rock, from both animal control and private owners, asking that we remove the pig.
In addition to bans on pigs, other jurisdictions have unrealistic weight restrictions for pet pigs. While potbellies can be as small as 70lbs, the more common range, in our experience, is 100 to 180lbs at adulthood. It is our opinion that, if potbellies are permitted as pets, the weight restriction should be removed all together, or should be at the high end of the range—250lbs.
Most jurisdictions that allow pigs as pets do not have licensing or neuter/spay policies in place. This contributes to backyard breeding, which is banned for other types of domesticated animals. Because of the lack of licensing and altering policies, about 50% of the incoming pigs at Hog Haven Farm are intact, and are rarely up to date on necessary vaccines, such as dewormer.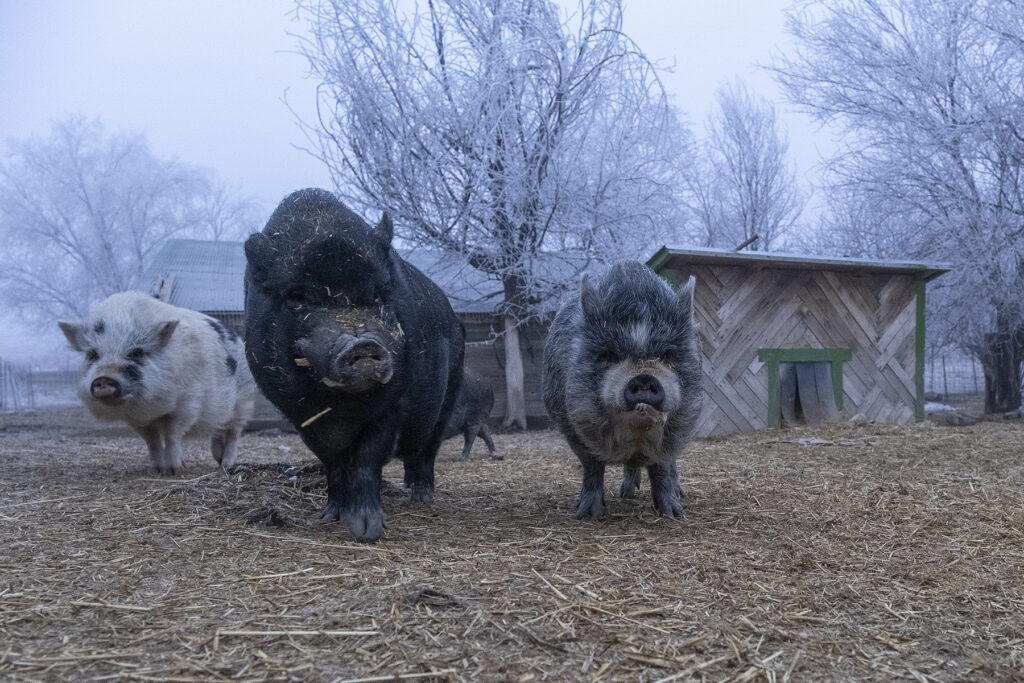 While pigs do make wonderful companion animals, they often do not do well in homes with other pets—primarily dogs. Because pigs and dogs have different methods of communication, they can become a danger to one another. Inherently, pigs are prey and dogs are predators; due to no fault of either animal, the result of their inability to communicate can lead to traumatic, and often lethal, results for the pig. That being said, pigs do coexist well with other species, including cats, goats, and other "farmed" animals.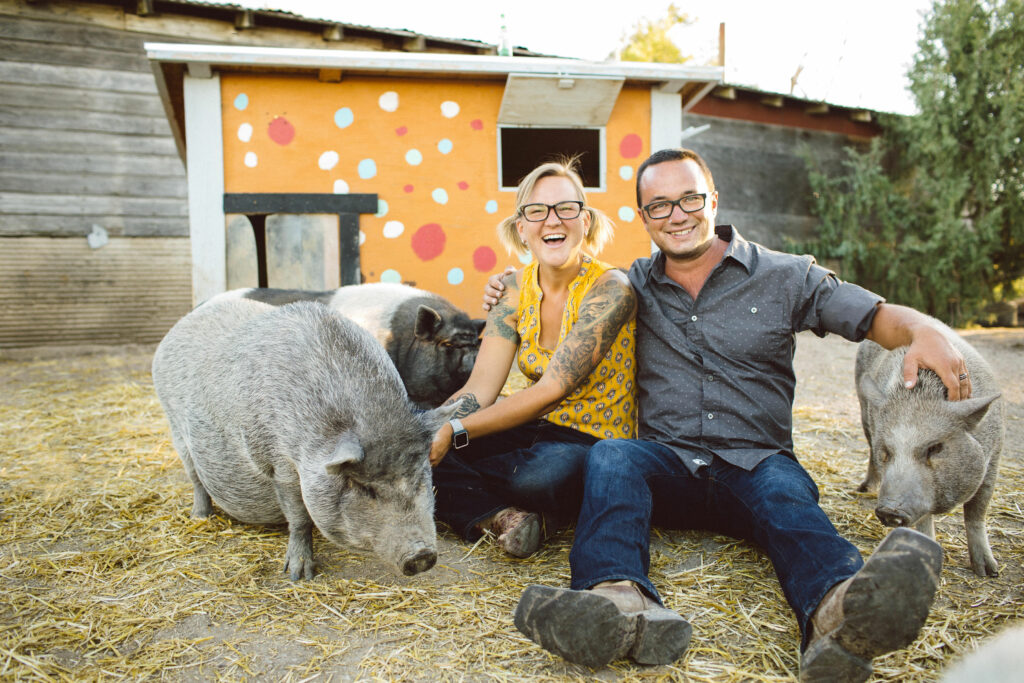 One of the reasons I am so drawn to pigs is their sentience. Pigs are social animals with a herd mentality, and form strong bonds with their companions—they crave affection and attention. Ranked the fourth smartest mammal, pigs reach the intelligence of a 4year old human. Like elephants, pigs' emotional intelligence is comparable to our own human experience—they understand joy, love, and happiness, but also deeply feel sadness, loss, grief, pain, and fear. When pigs lose their companions, they can, and often will, cry real tears and suffer from depression, just as we humans do.
Pigs use more than 20 sounds to communicate; when they are happy to see their companions, they hot pant to express affection. As intelligent animals, pigs are natural problem solvers—they are curious and food motivated, so learning to bust out of their pen or break into the refrigerator inside the house are mild inconveniences. More so than other domesticated animals, pigs appreciate human companionship, and love to cuddle or be around their people. As such, we advocate for a compassionate, plant-based diet.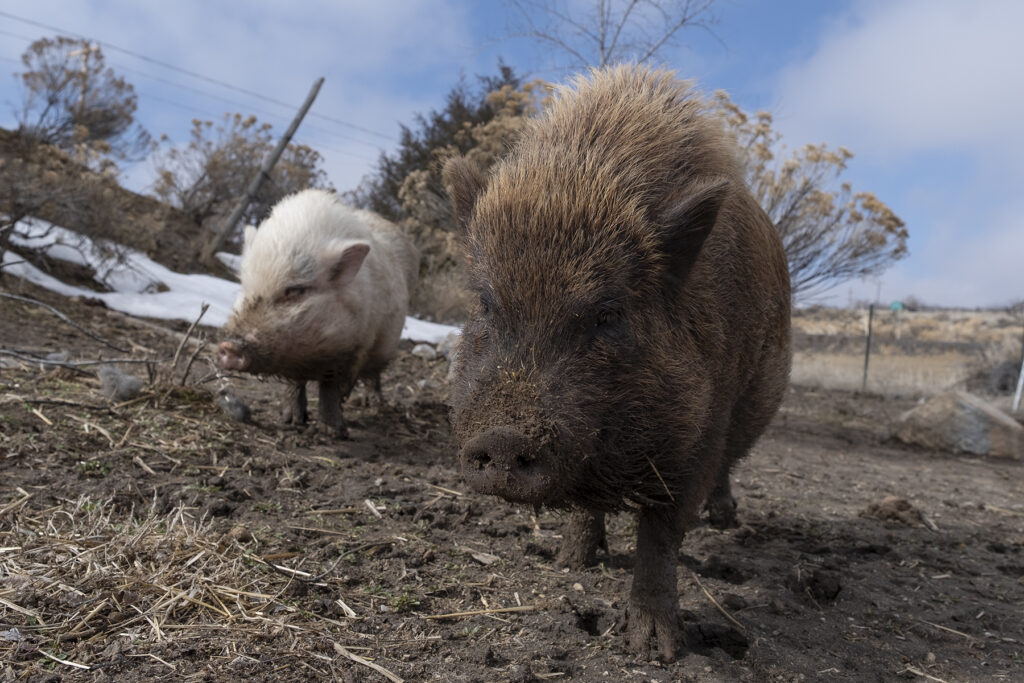 Operating a pig rescue has its limitations. Pigs are dominant creatures, and will physically fight one another when meeting for the first time, so there is a process to integrate new pigs. As many of our intakes have not been vaccinated, and parasites can affect our entire herd, we have a quarantine procedure that lasts anywhere from 30 to 60 days. Many of the inbound females are not spayed, and the procedure, while necessary, is quite expensive. Current demand averages eight surrender requests for every one pig we adopt out. In 2019, we have rescued 12 pigs and adopted 8, but have a current waitlist of 5. We have had to say 'no' to more than 40 unwanted pets as well. Our average annual adoption rate is only about 20%, and that further limits the number of new pigs we can rescue.
To combat the overwhelming plight of unwanted pigs, we have several ongoing objectives. The first objective is to work directly with animal control units across the Denver-metro, for training purposes or to place abandoned, abused and neglected pigs. We also work directly with many animal shelters that are not equipped to handle pigs; some of the shelters we work with are partnered with animal control units, and we have been able to save many pigs from hoarding and neglect cases because of this relationship.
Hog Haven Farm also strives to educate the general public about pigs as creatures and as pets, to break the myths breeders have created and allow people a chance to interact with our rescued pigs. We are very active on social media, with the goal of teaching people about these amazing creatures. We currently have 7 pigs trained as therapy pets, and will bring them to fundraising events, as well as to schools, assisted living and nursing homes.
Our last objective is where we need your help! We are seeking change for breeding regulations and zoning restrictions across Colorado and ultimately nationwide. Without your help, and without our ability to educate the general public, the epidemic of unwanted pet pigs will only worsen.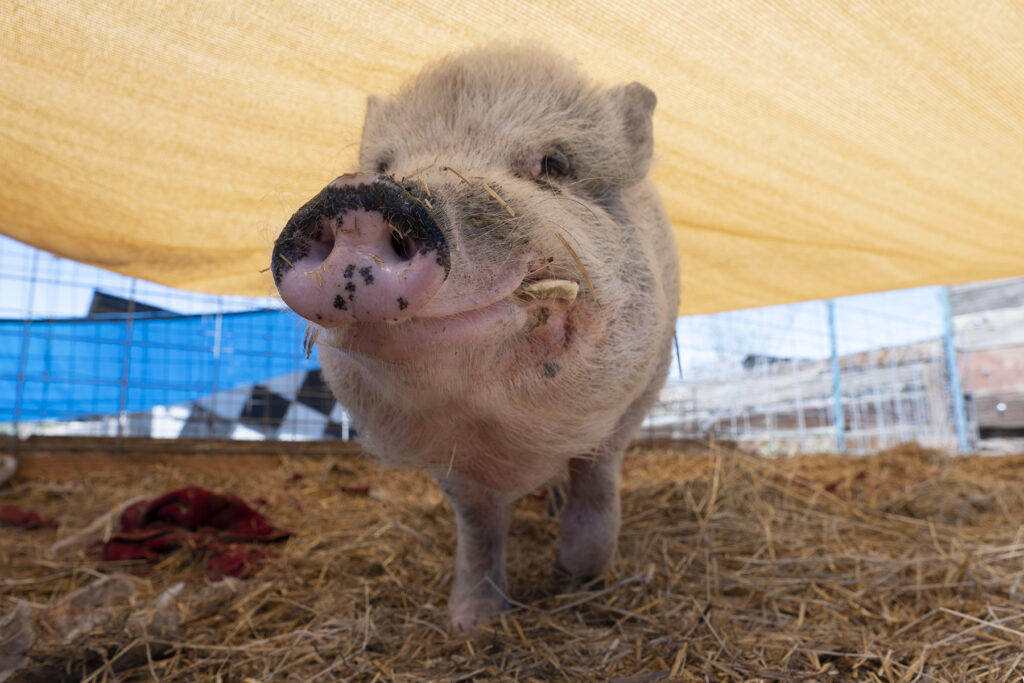 You can become involved by sharing this truth, reaching out to your local lawmakers and demanding change, and by choosing to adopt your companions, rather than supporting breeders. Only through education can we demand change! To watch the full video of Erin's presentation, please visit our Facebook page.