Are you tired of giving your piggies the same-old boring treats? Sure, they'll eat anything, but why not make a special treat that's healthy for them and sure to please? This recipe for homemade oatmeal pumpkin bars is easy to prepare, and pig-tested and approved!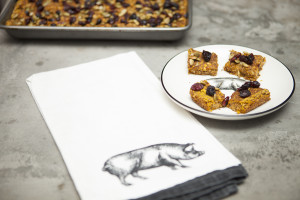 For this recipe, you'll need:
*1 1/2 cup steel cut oats
*1 cup unsweetened almond milk (or another type of plant-based milk)
*2 cups ground flaxseed meal
*29oz canned or fresh pureed 100% pumpkin (do NOT use pie pumpkin)
*1 tsp cinnamon
*1/2 cup dried cranberries (or raisins)
*1/2 cup unsalted pumpkin seeds or sunflower seeds (or a mixture of both!)
*1 tbsp coconut oil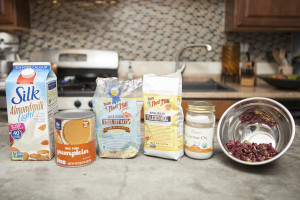 Step 1: Preheat oven to 375° F
Step 2: Gather your ingredients (see picture above for brand ideas)
Step 3: Combine oats, flaxseed meal, cinnamon, and almond milk in a large mixing bowl and mix together thoroughly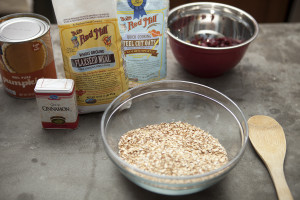 Step 4: Add the pumpkin to the mixture, stirring in a little at a time. When complete, your mixture should be fairly thick and have a gooey consistency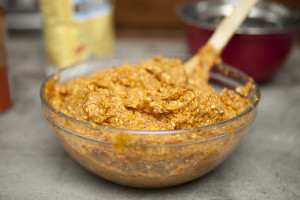 Step 5: Prepare a 9×13″ baking pan for the bars. You want to melt the coconut oil to coat the pan with; this can be done in the microwave or on the stove. Coconut oil has a relatively low melting point, so if you choose to microwave, cover the bowl with a paper towel to avoid a mess, and microwave in 20 second increments until melted. Coat the pan with the melted oil using a brush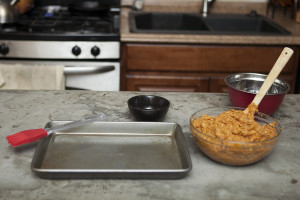 Step 6: Evenly spread the mixture onto the pan, pressing into the corners of the pan.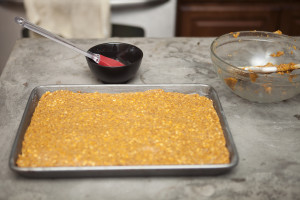 Step 7: Add the dried cranberries and pumpkin seeds to the top, making sure you lightly press into the batter so they stick.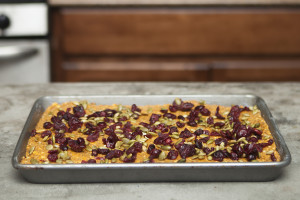 Step 8: Bake for one hour, or until a toothpick pressed into the center of the tray comes out clean. Allow 10-15 minutes to cool prior to cutting and serving to your piggy pals.