It's been a while since we've posted anything about our rescue pig, Pumba, so we thought we'd share a little about how this fella is doing!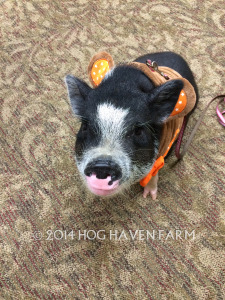 Pumba has been with us for 5 weeks now. He is currently 5 months old, and we're estimating his weight to be around 35lbs–still overweight, but he's looking much better! At this point in time, the three little piggies (Pipsqueak, Boris and Pumba) are able to be together. It took 3 weeks for Boris and Pumba to work out their dominance issues; Boris won the fight as alpha pig with Pumba, although Pippy remains alpha out of the three of them.
This week was our first experience bringing Pumba to the memory care facility as a therapy pig in training. He did very well! He is gentle, and is potty trained and leash trained, so a good choice for making the rounds and bringing smiles to the residents. He sits on command, although it often involves a case of bribery!
Elliott has taken Pumba under his wing now too. They are often found snuggling together, inside on the futon or outside on the deck. We do not leave the dogs alone with the pigs, but when we're home and they're able to be together, Elliott and Pumba are best friends.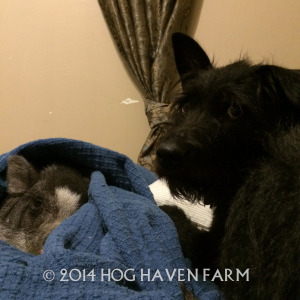 We're very grateful that Pumba has become a good fit in our home, and that he's making progress to becoming healthier!