As a Colorado nonprofit organization, 100% of our donations are given to either help pigs in need, provide supplies and medical expenses for our rescues, and to help move our organization forward. We thought we should give you an idea of where our money comes from, how we spend it, and why your generous contributions help!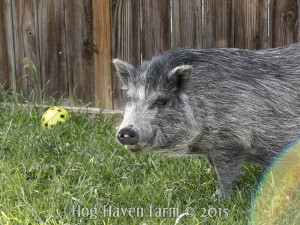 Hog Haven Farm is currently in the review process for 501C3 federal tax exemption status from the IRS. We raised over $1100 from selling calendars and through a joint effort with Erin Brinkley Photography to pay for the application expense. The cost of the application to the IRS was $850, and we decided to hire a lawyer to review our paperwork prior to filing. That expense was $225. In total, we spent $1075 on the 501C3 process; this almost depleted our funds that came in!
Aside from the exemption process, Hog Haven Farm is funded almost entirely by its founders, Erin and Andrew, who work full time in addition to running the organization. We need help raising more funds to provide necessary care for the pigs we rescue, and to keep our organization moving forward. An idea of our current expenses:
1. Pig food: we spend $20 per month on pig feed. The three pigs that are permanent residents eat Manna Pro Potbellied Pig food, and a 50lb bag usually lasts about 2 months. We keep extra food on hand for visiting pigs, rescued pigs, and to give as a starter supply with the pigs that are adopted out.  In addition to pig "kibble", we purchase vegetables and some fruits to supplement the pigs' diets. The monthly expense of these supplemental foods averages $80. That totals $100 per month on feed for the pigs, or $1200 per year.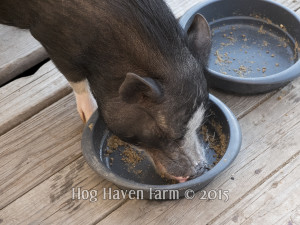 2. Veterinarian care: the pigs must have routine checkups and vet visits to ensure proper health. We ensure that all incoming pigs, as well as the permanent residents, are healthy and well taken care of. Vet expenses include hoof trimmings, teeth cleaning, deworming shots, prescription shampoos to treat extreme dry skin, and of course, emergency visits as needed. We spend about $250 every six months, or $500 annually, on vet visits for our residents. Incoming pigs range from $65 to $165 per visit, depending on how much TLC (aka medical attention!) they need. This number fluctuates given demand, but we estimate that we will spend over $1000 on vet expenses in 2015.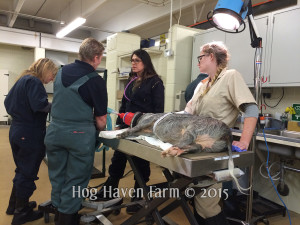 3. Transportation: in the best interest of the pigs we rescue, we cannot always charge previous owners a service fee. In extreme cases, we rescue pigs that are in terrible living conditions, situations of neglect or abuse, or pigs that are being abandoned. While we have a fee in place for taking in surrendered pigs, and a fee for all adoptions, we cannot always charge, dependent upon the situation. So far in 2015, Hog Haven Farm has spent more than $300 on transportation to take in potbellied pigs. We transported a rescue pig from Nebraska to Colorado, and have driven all around the Denver metro area to assist with rehoming or to rescue new pigs. This number is growing! In May 2015, we received more than 12 emails and phone calls about rehoming and rescue options, and have already helped four pigs in need.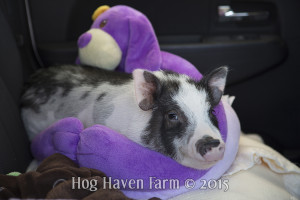 4. Property maintenance: as Hog Haven Farm brings in more pigs, it is important for us to maintain the pens and grazing areas on our property. Fencing needs to be secure, clean and fresh water needs to be readily available, enclosures against the elements need to be built and/or secured, and blankets/towels need to be in place for bedding. We estimate that this expense will run more than $2000 in 2015.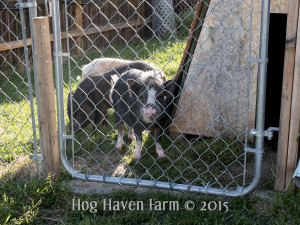 5. Expansion: Hog Haven Farm will need to relocate by end of year 2015. Our current land resources are limited, and with the attention we're receiving, we are outgrowing our capacity for taking in new rescues. While we have a small network of available foster families, we cannot depend nor rely on them permanently! As such, any incoming donations that are not spent on the above four sections will go into an expansion fund. Look out for new fundraisers that will be specific to this need!
If you would like to donate to help our organization, please visit our website to make a contribution through PayPal. We will be notified by late August 2015 by the IRS for our exemption status, and can't wait to share the information with you all! Pending approval, all of your donations will be tax deductible!
We also accept in kind contributions; email info@hoghavenfarm.org for more information.