Operating a rescue: year in review 2016
A big, big thank you to everyone who donated to Hog Haven Farm in 2016! This closed our second year of saving and helping pigs in need, and to keep our nonprofit as transparent as possible, we would like to share with you our financial statistics.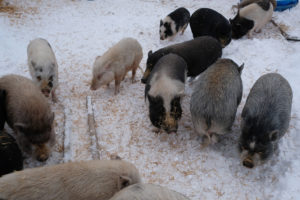 Total donations received in 2016:
$25,822.21
From these donations: 9 pigs were sponsored, 2 t-shirt fundraisers were held, 1 GoFundMe fundraiser was held, and 1 event was attended with apparel sales
Total amount spent on feed for the animals (including pig chow, hay, and vegetables): $6924.28
Total amount spent on maintenance (fencing, straw, insulation, and other supplies to keep the pigs safe): $5221.59
Total amount spent on veterinary care: $5892.33
Total spent on transportation: $1071.93
Total spent on advertising, office supplies, and licensing fees: $454.73
Total spent on rent/leasing: $4500.00
Total spent in 2016: $24,064.86
Pigs adopted to forever homes in 2016: Mr. Pigglesworth, Wilbur, Chunky Wilbur, Haley, Daisy Mae, Clyde, Sunflower, Snuffles, Opal, Heisenberg
Pigs surrendered to Hog Haven Farm in 2016: Mr. Pig, Oscar, Tippy, Dyson, Kora, Poundcake, Riggs, Dublin, Marty, Morty, Tootsie, Batman, Opal, Dug, Jimmy, Herschel, Ziggy, Bentley, Piggy Smalls, and Sherman
Pigs saved from slaughter: Journey, Wilma, Dug, and Mac
Average number of pigs at Hog Haven at one time: 45
As a 501C3 nonprofit organization, we need to not carry over a profit from year to year–and we were able to spend our incoming funding to directly benefit our animals! A million thank-yous to everyone who donated, participated in fundraising and volunteering, and cares about our rescue endeavors. We could not run this operation without your help!