Are you looking for year-end charitable giving options? Please consider a tax-deductible donation to Hog Haven Farm!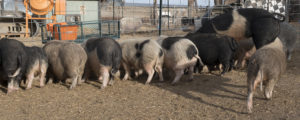 What do we use our funds for?
• Vet care: in 2017, we spent more than $11,000 in vet care, with more than 30 pigs neutered and spayed. This figure also includes some routine vaccinations and care (like hoof and tusk trims) and emergency visits.
• Pig food: with more than 80 pigs in our care, we are currently going through one ton of pig food per month. This is a cost of $12,120 per year! Additionally, we need to supplement the pigs with hay in the winter, which is typically $600.
• Supplies: as a growing rescue and sanctuary, we frequently need to add to pens with fencing and fix shelters with new wood, insulation, and shingles. While we are able to have some of these materials donated to us, some supplies need to be purchased. This year we spent nearly $1,000 on insulation and more than $500 on fencing materials.
• Bedding: during cold months, the pigs need plenty of fresh straw to make their beds and stay warm. This year, we have spent $700 on straw, with some donations revived as well.
We also have costs not directly associated with the pigs, such as feed and routine care for our equine rescues; administrative costs; utilities (such as the portapotty for visitors); and equipment costs (we were able to purchase a flat bed trailer for hauling and a horse trailer for transporting larger pigs).
Hog Haven Farm is committed to transparency, and we have an active profile with Guide Star. Please visit our profile on their site for more information.
Ways you can help financially support our mission:
• Sponsor a pig with a monthly or annual virtual adoption!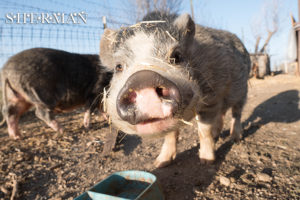 • Contribute to our fundraisers. We currently have an awesome, custom socks fundraiser available to preorder until 12/27!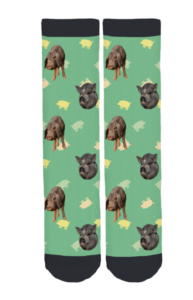 • Donate directly to our vet: Strasburg Vet Clinic, 303-622-4415 (account under Erin & Andrew Burgardt)
• Donate directly to our feed store: Byers America, 303-822-5625 (account under Erin & Andrew Burgardt)
• Check out our wishlist on Amazon!
• Shop with Amazon Smile, and select Hog Haven Farm as your charity!
Thank you, to all of our fans and friends, for your loyal support. Because of you, we can continue to help more pigs in need, and support those we have!