Dr. Luisa Taylor, DVM—Vice President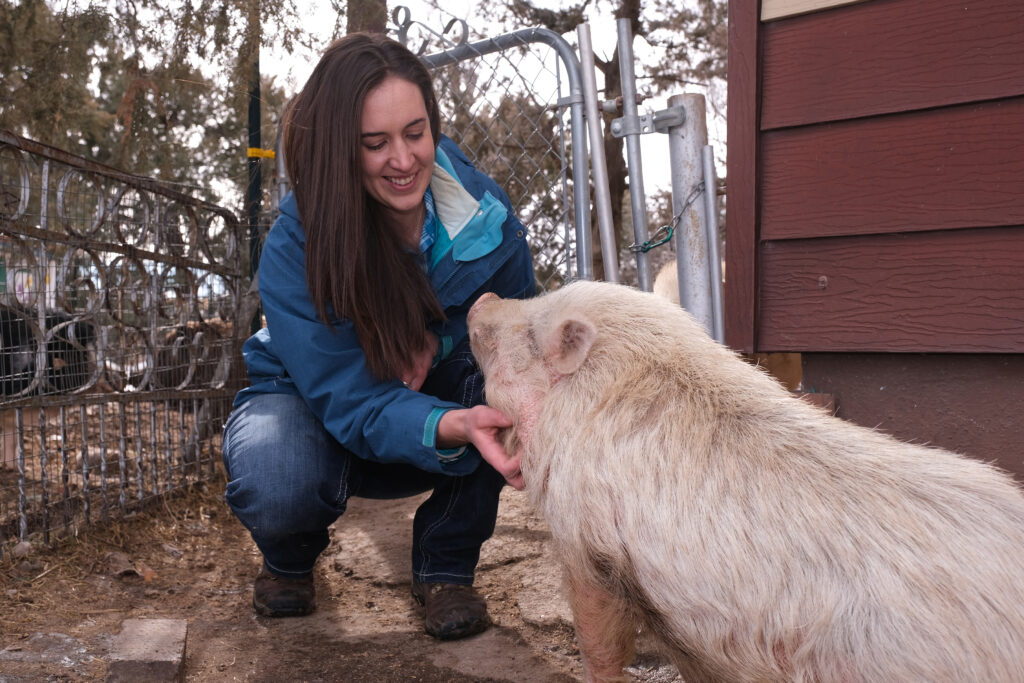 Luisa has been the Veterinarian for the pigs since the early days; she spayed our beloved first pet pig, Pippy, in 2013 before Hog Haven Farm was born! Now our primary veterinarian at Strasburg Vet Clinic, Luisa has treated more than 100 of our pigs—from neuters and spays, to routine care, to emergency visits. Luisa brings a unique perspective to our organization, working directly with the pigs (and Erin) on a regular basis. With her husband Brody, Luisa has two young kids and two dogs, Dante and Tommy. They love to spend time outdoors and sample Brody's delicious home brewed beer when the weather is nice.
Katie Kapral—Treasurer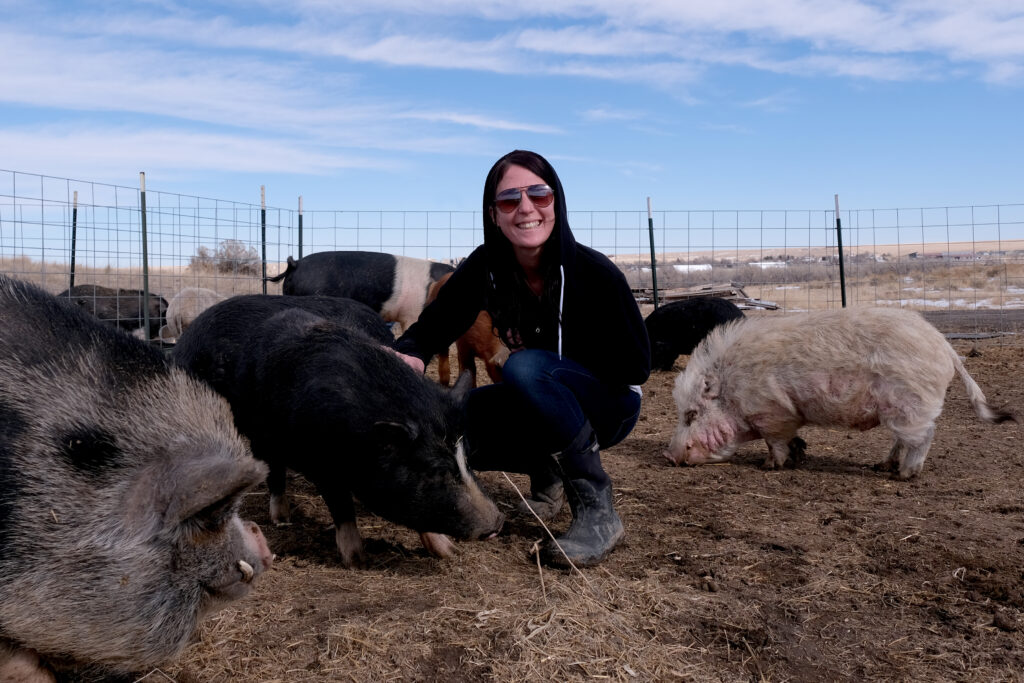 Katie joined the Hog Haven Farm team at its inception in 2014, as a long time friend of Erin and Andrew. With a background in accounting, Katie joined the board as Treasurer, and spends much of her free time visiting the farm, supporting all of our events, and assisting with transport when needed. Her favorite resident is our rescued dog, Elliott, but she has a soft spot for rescued pig Mr. Smee, too! Katie is an avid runner and enjoys the great outdoors, eating ice cream while binge watching Netflix in her "comfies," and also enjoys finding new vegan restaurants around the Denver area.
Jeremy Loveless—Secretary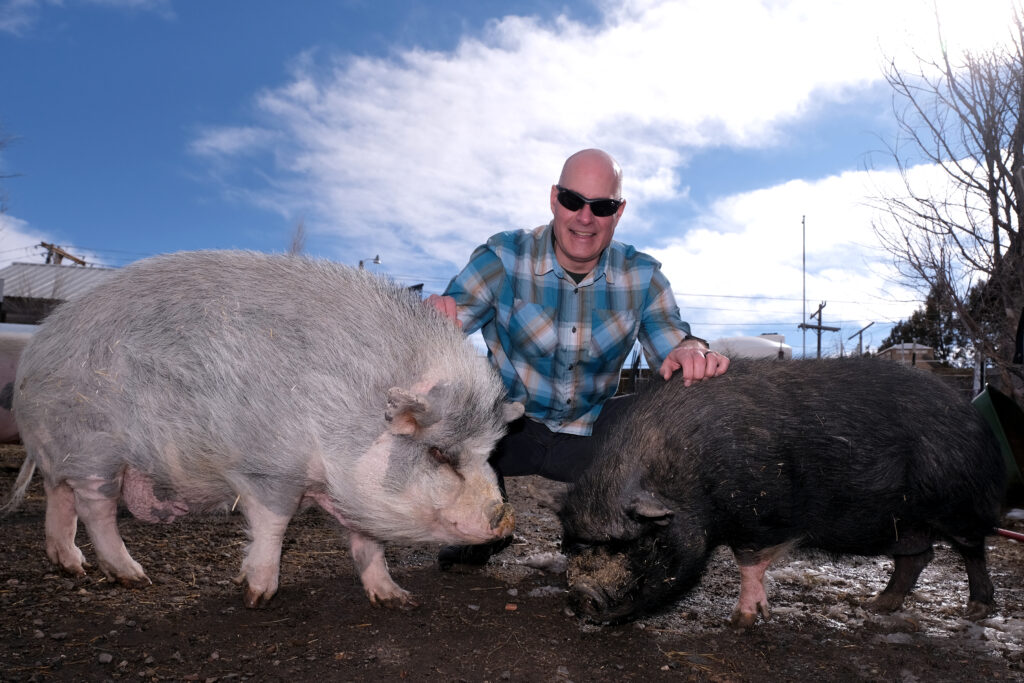 Jeremy has been an active member of Hog Haven Farm from the early days, along with his wife, Heidi. Pig dad to three (Ziggy, Olivia and Rue), Jeremy likes sneaking treats to everyone at home and at the farm. From helping with volunteer days and events, to heading up rescue operations and transport, Jeremy is a vital part of our organization (and is an expert level pig wrangler!). When he isn't at the farm, or snuggling his own pigs and Heidi, Jeremy enjoys craft beer, jiu jitsu and adventuring outdoors.
Andrew Burgardt—Co Director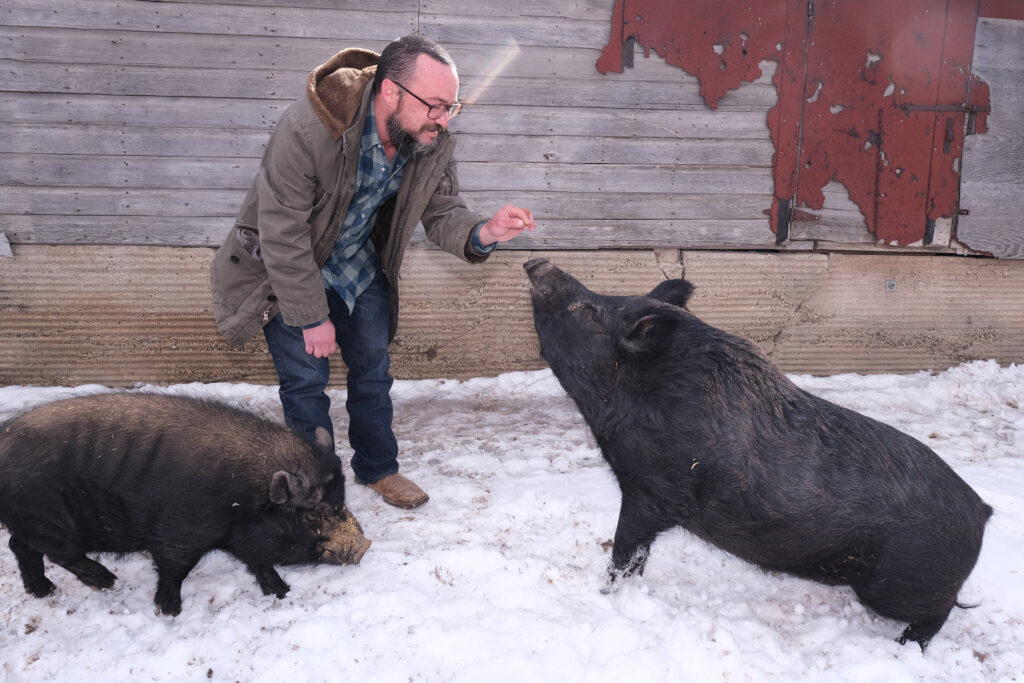 One of our founding members, Andrew is an avid animal lover and our resident pig dad. Andrew works full time, but loves to get pigs down for belly rubs when he's home at the farm—he's pretty partial to Pippy, Pumba, Hoover and Morty. Credited with naming Hog Haven Farm, Andrew is also an expert at naming new intakes (such as Katniss Eversqueal). When he's not assisting Erin with pig transport, event planning, or repairs around the farm, Andrew enjoys a nice scotch (neat, please)—and "reading" new things from YouTube and podcasts.
Erin Brinkley-Burgardt—Executive Director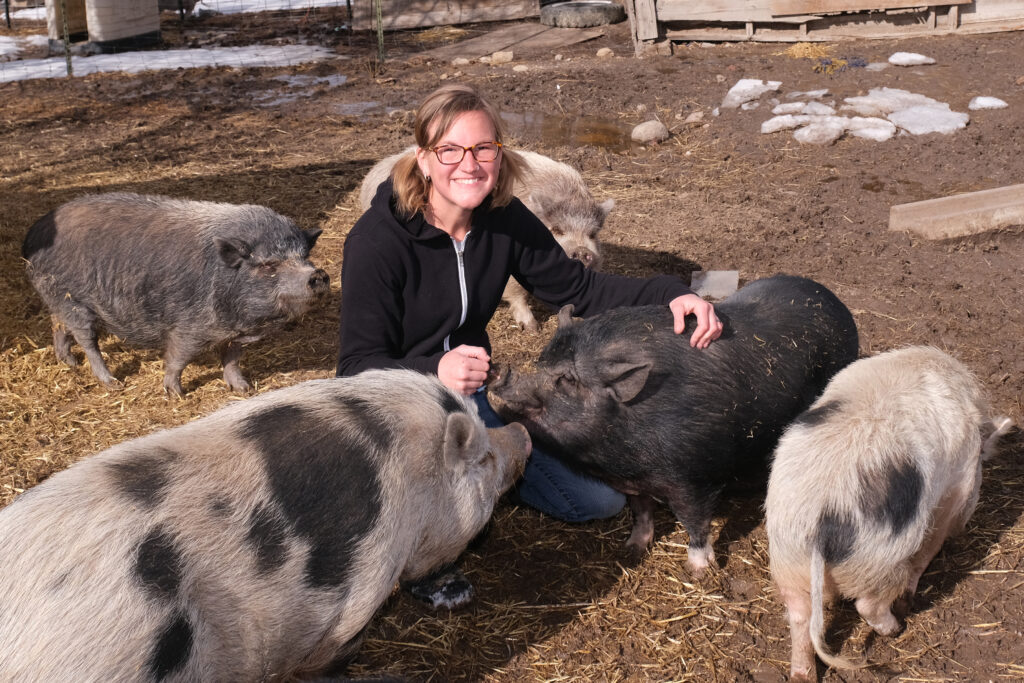 Also known as "food lady," "pig mom," and "limo driver," Erin is the primary caretaker to all of the residents at Hog Haven Farm. With a background in photography and marketing, Erin handles our social media, event planning, shirt designs, and more. It's easy to see Erin's passion and dedication to the pigs—she spends all of her time ensuring the pigs are well-cared for, properly fed & watered, and happy! Anytime Erin is among the pigs, their love for her is obvious; they will line up (and sometimes squabble) to get belly rubs and pets. When she has a moment of free time, Erin enjoys hitting up the best vegan spots in Denver, reading, and photography.
Jacob Malocha—Adoption Subcommittee Chair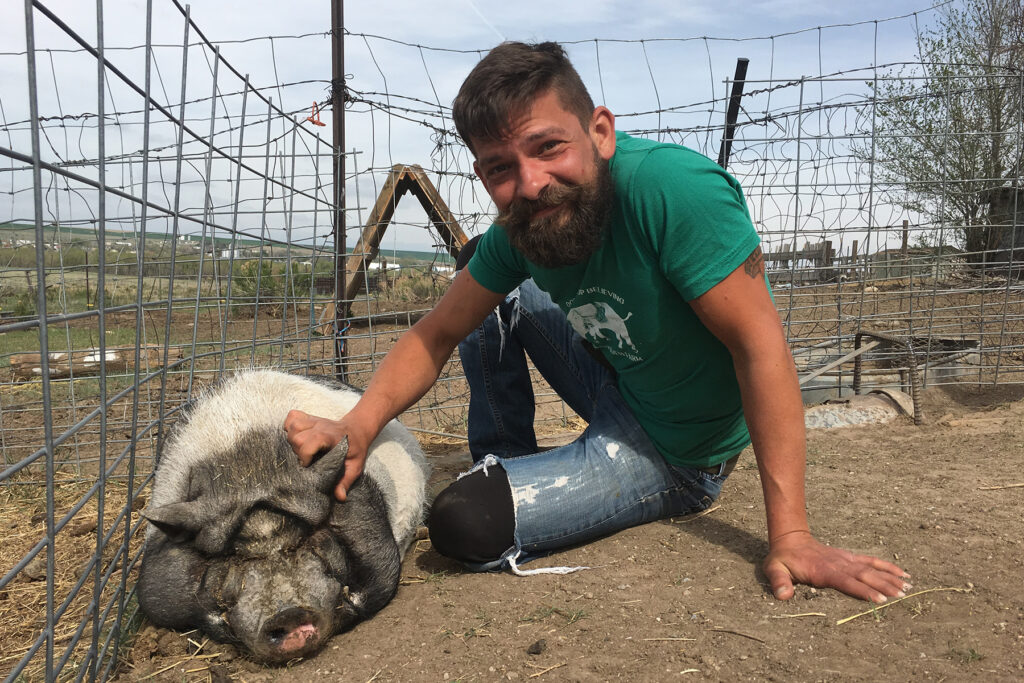 Pig dad to two (Chutney and Maple), Jacob exemplifies awesome pig parenting, and has been actively involved with Hog Haven Farm since its founding. Perhaps with the best behaved pet pigs we know, Jacob excels at education and outreach to potential and current pig parents! You'll often see him at our events, with Chutney and Maple in tow. When he's not lounging with the pig kids, Jacob enjoys cooking, camping, pinching pierogi, and sipping on some good craft beers.
Jessica Cordell—Marketing Subcommittee Chair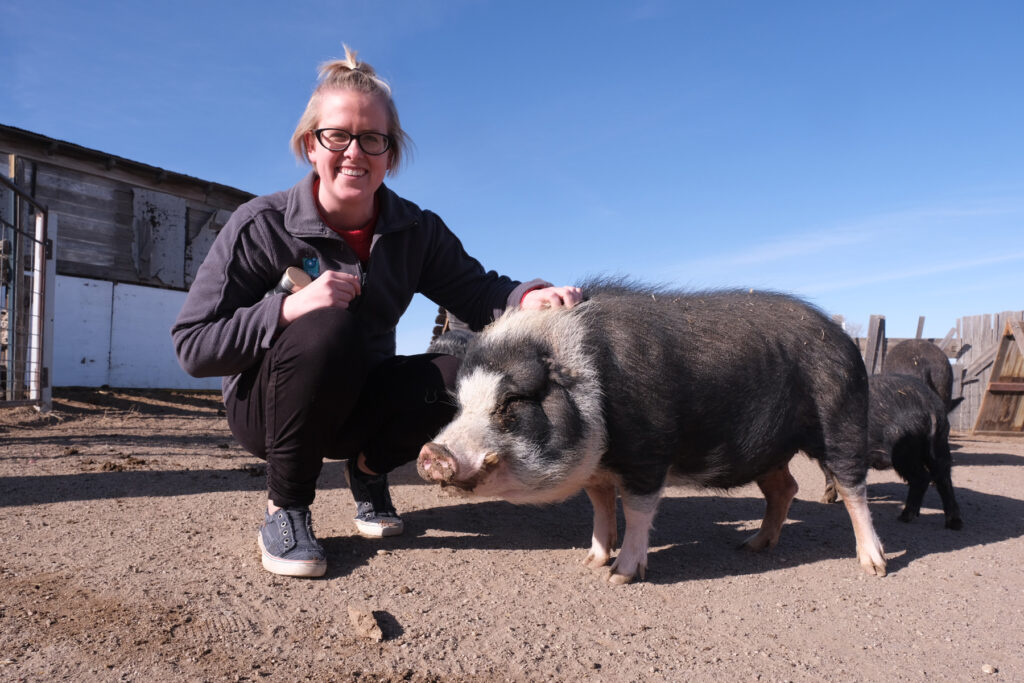 An avid animal lover, and pig mom to the diva Penelope, Jessica has been actively involved with Hog Haven Farm since the early days. You'll often see her at our events, like Yoga with Rescued Pigs, always with a well-dressed Miss P. Along with her fiancé, Jeff, Jessica invented the piggy "Kissing Booth," and is always looking for new venues and events to engage our community with the rescued pigs! In her free time, Jessica enjoys hanging out on patios during nice weather, with either Penelope or her corgi, Sherlock (and of course Jeff), discovering awesome new craft beers and ciders.
Kris Nguyen—Volunteer Subcommittee Chair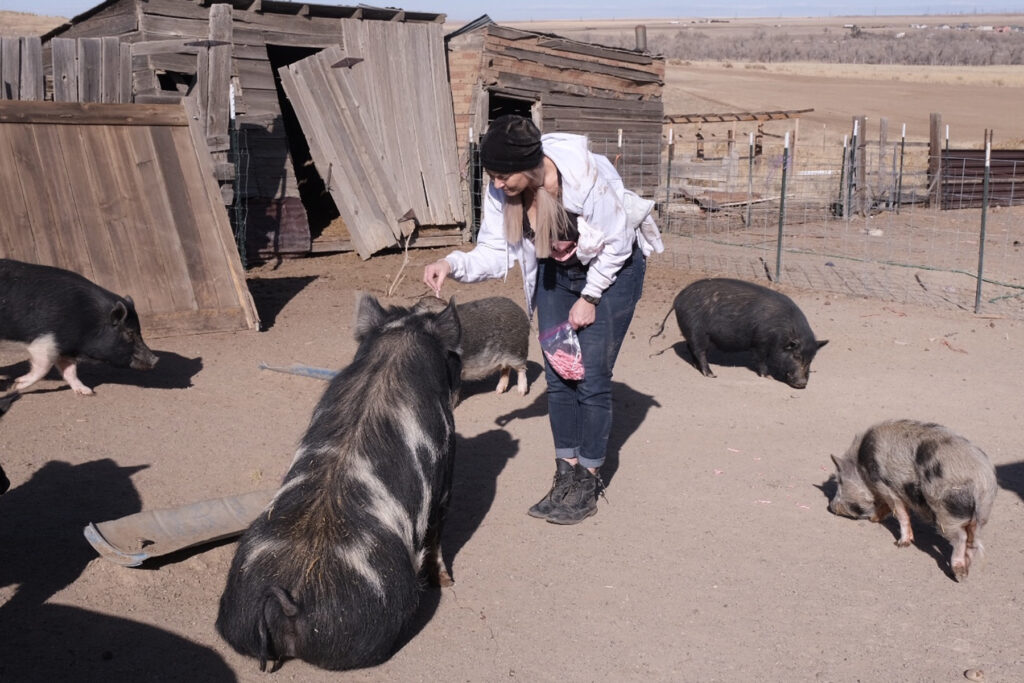 With an insane amount of energy, Kris is all about helping on the farm whenever she can. Kris holds the record for most poop singlehandedly scooped in one day, and is always available to help with projects (big or small) at Hog Haven Farm. With an unstoppable, positive attitude, Kris is our biggest cheerleader, and loves to spend her free time at the farm (she's quite partial to Lola). Kris is a proud pig mom, dedicating her life to taking care of her own babies, along with her husband Son. When she isn't volunteering at Hog Haven Farm or at home with her babies, Kris enjoys a fun trip to Vegas, helping at her daughter's restaurant (Zomo in Englewood), and spending time with her 4 human kids and 2 grandkids.
Interested in volunteering?
We would love to have you get involved! If you have an interest in volunteering, please shoot us an email at [email protected] to learn more. Our 2020 season will kick off late spring!