Rescue often involves heartbreak and heart aches. Some pigs arrive happy and healthy, but others arrive broken, neglected, and abused. At Hog Haven Farm, most of the pigs surrendered to our care come from that second category—so we can be a safe landing space, a source of comfort and healing, an option for those with nowhere else to go, and a voice for the voiceless.
Our newest rescue may not have purposely been neglected, but her physical condition desperately hurts our hearts. There are many breeders out in the world who claim "teacup" as a breed of pig, and their advice is to essentially starve the pig to keep it small. Unsuspecting owners take this poor nutritional advice with no question, feeding a diet of only ¼ cup pig pellets twice a day; but like any other species, as we grow and mature, our diet must also increase. ¼ cup of feed per meal (twice a day) for the duration of a pig's life is not enough nutrition, and some folks do not realize the harm this diet causes.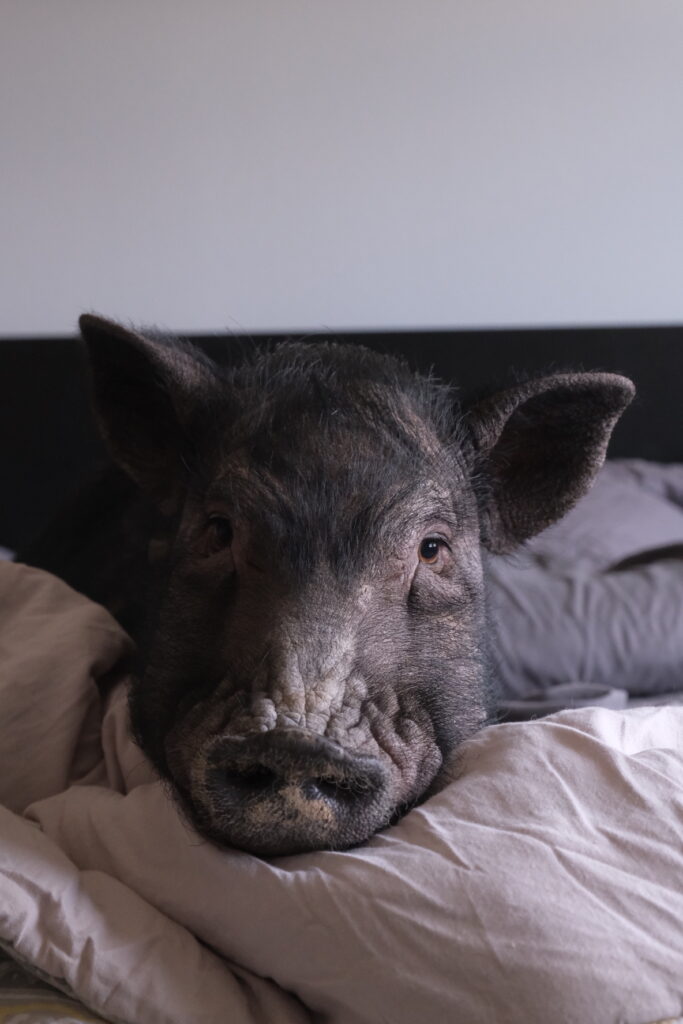 A pig's organs will continue to grow as they mature, and if their body does not keep up with internal growth, they will live a short life, stunted, starving, unhappy. A healthy diet is based on 1-2% of body weight, and the feed you select should be formulated specifically for potbellied pigs (some brands are labeled for mini pigs, but the protein content of a pig-specific food should range between 12 and 16%, or closer to 20% for piglets. Most hog feeds, and specifically grower feeds, should not be used). Hog Haven Farm chooses to feed Manna Pro, but other brands are widely available. It should also be noted that mini pigs are not a breed, but a size reference: healthy adult weights can be as low as 70lbs, or as large as 300lbs, and they are not considered adults until 4 years of age. In Hog Haven Farm's experience, average adult weight is typically between 100 and 180lbs.